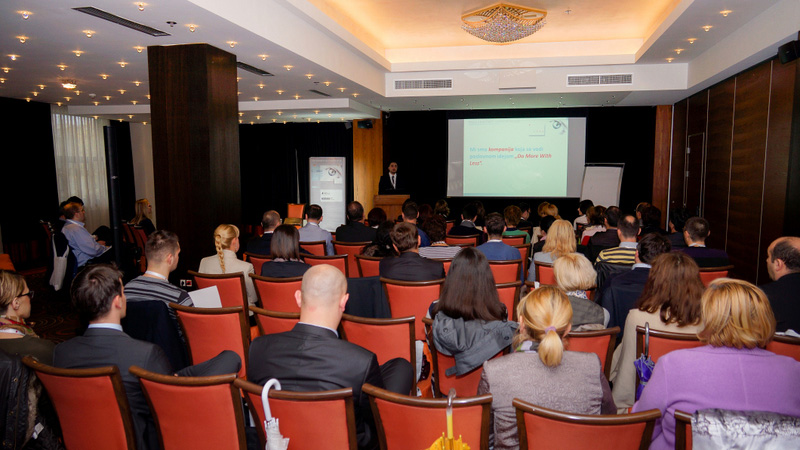 27 Nov

Success of the Conference Perspective into the Future – controlling as a guide

First controlling conference organized by our company was held in hotel Bristol which gathered around 60 participants from financial, public, private and telecommunication industry.

The objective of the Conference was to gather the finance experts and contribute to the understanding of controlling function as a guide that makes logical connection between the planning processes in the companies.
The participants of Conference had the opportunity to see the presentations from the field of controlling – the tools and instruments available to controlling, development and communication with the controlling in the companies, information systems and principles of reporting, all held by the companies Altius savjetovanje Zagreb and Oracle in cooperation with us.
I am very glad that after first conference on controlling in Bosnia and Herzegovina, according to the impressions of the participants, it is completely clear that without the controlling there is no modern business. Altius was glad to accept the invitation of CORE for the participation at this event. Our experience of introducing of controlling in the companies and education in the field of controlling tells us that the companies that have the controlling function are on good track and do not have to worry for the development. Therefore, I am confident that the managers and owners in BiH will ''plough in'' even more deeply with controlling after this Conference or start to familiarize with it, said Andreja Švigir, director of the company Altius savjetovanje Zagreb.
All the participants agreed that controlling is significant and function that should not be left out from the business management and which is not possible to perform without adequate IT support.
The Oracle Hyperion Planning applicative solution was presented which brings in the technological improvement in the process of business management, reporting, analyses and plan design with purview of demo solution through the practical examples from the field of finance industry.
"Every modern company in its organizational process should see the controlling function as a key link which enables the measurable connecting of planning and achieved goals of the company and that for controllers and the entire company it is very important to have a quality IT solution that will help them to efficiently perform the tasks and have 'wider perspective'' of their business. Oracle Hyperion Planning is solution which is completely customized to controlling processes and which enables the companies to plan, foresee the future business and, in that way, direct their own business activities towards the strategic goals", said Nihad Velagić, executive director of CORE d.o.o. Sarajevo.
The Conference had successful results and our company plans to organize the conference on topic of controlling in future.